Cleaning according to Sinner's Circle
Cleaning professionals follow the principles of Sinner's Circle, which says that a cleaning result is dependent on the following factors:
Mechanical action
Temperature
Detergents
Time
If one of the factors is reduced, at least one other factor must be increased. For example, if you clean with hot water (temperature) and scrub (mechanical action) for longer (time), you will need less detergent. Therefore, it is not always necessary to use aggressive chemicals to get a good result. Quite the contrary: with the powerful combination of steam pressure – up to 3.5 bar with the SC 3 from Kärcher – and high temperatures, a steam cleaner can dissolve dirt in very little time and without any cleaning agents. In this case, Sinner's Circle is complete even without the use of detergents.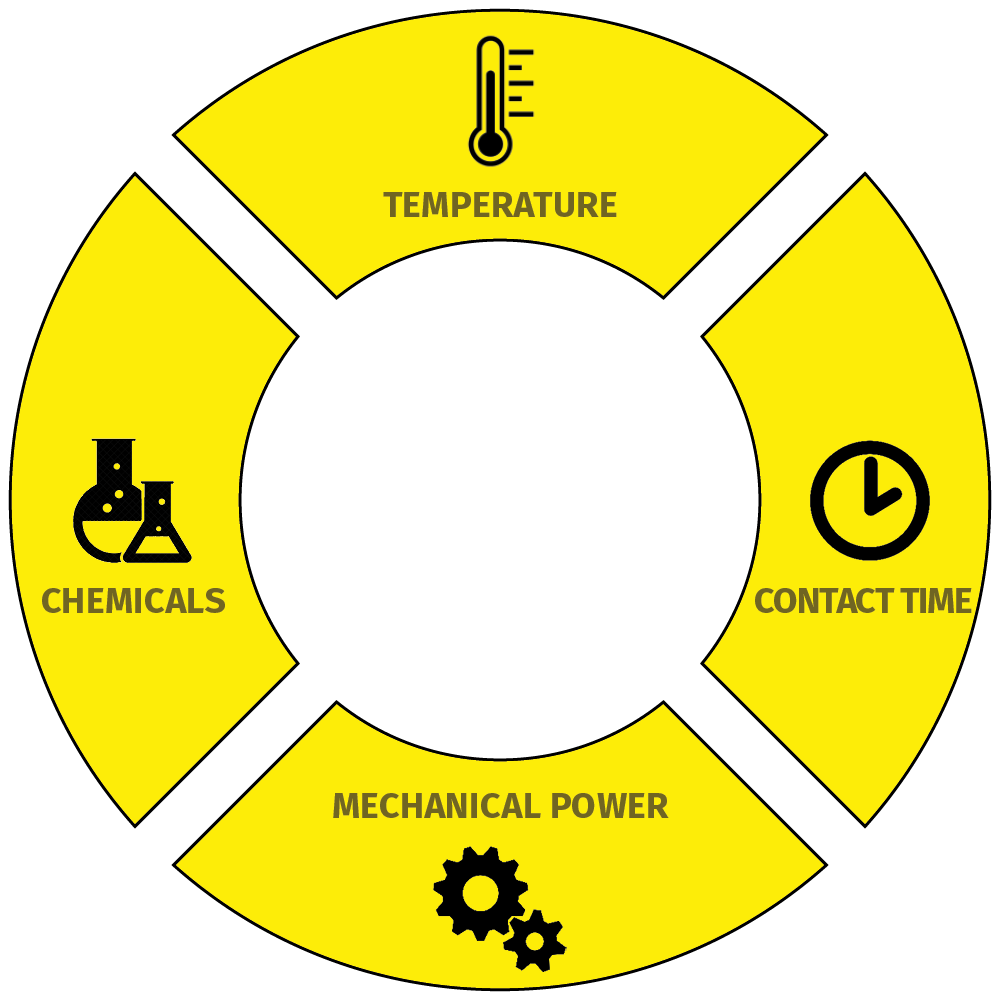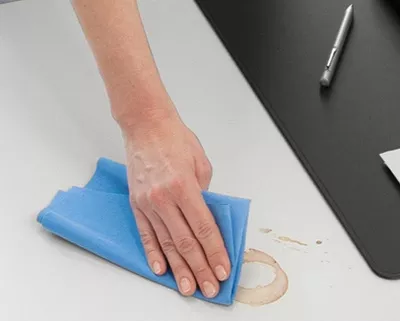 What cleaning equipment should I have in my cleaning cupboard?
There are many cupboards bursting with cleaning agents, and yet five is all you really need. Your basic equipment should include:
Multi-purpose cleaner
Dishwashing detergent
Cream cleaner
Glass cleaner
Acid-based cleaner – preferably citric acid-based
If you have a steam cleaner, then you can dispense with the multi-purpose cleaner and cream cleaner. Every cleaning cupboard should also contain micro fibre cloths and cotton cloths, for example old T-shirts. For better results when scrubbing, non-scratch sponges are the ideal solution.
A steel scourer is useful for removing stubborn dirt, for example on pots. And a colour code system taken from the professionals helps to ensure that cloths and sponges for different rooms do not get mixed up: red for the toilet, yellow for bathroom surfaces, green for the kitchen and blue for all other surfaces and furniture.
Where do I start and where do I stop?
Start by cleaning tables, shelves and windowsills. And always clean from top to bottom to prevent dirt from falling onto already cleaned surfaces. Also, always wipe in one direction to avoid distributing the dirt. Tip: once the kitchen table has been wiped clean, put the chairs onto the table and remove hairs and fluff from the bottoms of the chair legs so that they do not then fall onto the freshly mopped floor later.
Once the whole house has been dusted, the next step is to vacuum floors and upholstered furniture. Vinyl, tiled, parquet or other hard floors should be wiped clean after vacuuming. Do this using a steam cleaner and clean from outside to inside, and within the house from clean to dirty. This means that if you have a balcony (1), you should begin here, as dirt may be brought in after cleaning outside. Inside the house, it is best to begin in the cleanest room, the bedroom (2), and work your way from there through the office (3) and living room (4) and then to the more frequently used rooms like the hallway (5), kitchen (6) and bathroom (7). It is a good idea to change the wiper cloths now and then, depending on the level of dirt.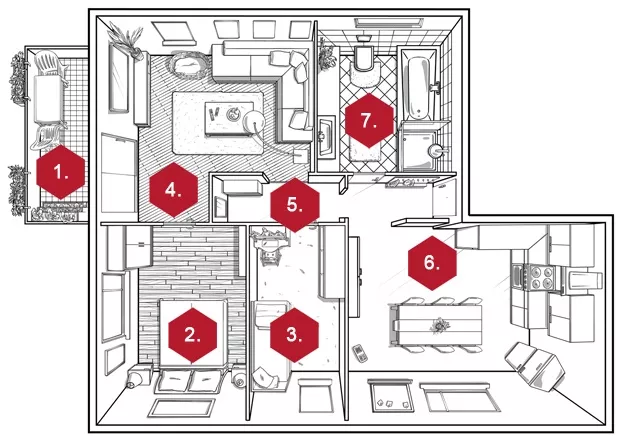 Can I use the steam cleaner to clean the laminate and parquet floors?
Anyone with laminate or parquet floors knows the challenges they present: they cannot be cleaned with too much water, just wiped damp. That means that the floor should be dry again after a few seconds. But this begs the question whether it is really advisable to use a steam cleaner? With the following tip, you will not have any problems: simply clip in two floor cloths and wipe on the lowest steam setting. Expert Urte Paaßen dispels the myth that fabric softener is good for cleaning laminate, as the agent leaves a thin film on the floor and makes footprints visible.
How do I clean the bathroom and kitchen?
A steam cleaner uses a combination of pressure and hot water steam. This combination is enough to clean the bathroom and kitchen units without chemicals. Limescale and soap residues in the bathroom can be removed using the point jet nozzle and round brush – without time-consuming scrubbing by hand. If the limescale layer is particularly thick, apply some citric acid-based cleaner to the area and after half an hour's contact time rinse off with water. Urte Paaßen advises against using vinegar-based cleaners, as the acid they contain can damage chrome parts, seals and joints. In order to prevent these deposits from developing in the bathroom in the first place, rinse the walls of the shower cubicle after every shower and wipe dry with a microfibre cloth. An even gentler way of removing the moisture is to suction it off with a window vac.
Grease and encrusted food residues in the kitchen can be dissolved using the steam cleaner. A soft velour nozzle cover is best for cleaning stainless steel surfaces on the exhaust hood. And if you want to bring out your delicate high-gloss unit fronts, use cotton cloths for cleaning and Vienna chalk for polishing – this way there will be no scratches.